---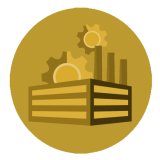 ---

Not-for-profit
No matter what role your organization has in the not-for-profit sector, managing costs, competing for funding, and generating and maintaining membership is a constant challenge. Our firm is able to help your not-for-profit organization handle regulatory change, audits, reviews, tax status issues, financial management and reporting, estate gifts, and more.
Types of organizations we support include:
Not-for-profit associations
Social service agencies
Hospitals and other health care organizations
Arts organizations
Educational institutions
Religious organizations
---

Manufacturing
Many great opportunities present themselves to the manufacturing industry – especially to those companies that can compete in the ever-changing marketplace. We can help you achieve your goals, both financially and strategically. We can assist with:
Tax planning and compliance services
Supply chain and inventory management
Consulting services relating to labour costs, technology investment, audits, and business expansion
Continuous business process improvement
Reorganizations and restructurings
Outsourcing decisions and management
Business purchase, disposition, and transition planning
Advice on financing your business expansion plans
Change of management
---

Real Estate & Construction
Our partnership with property owners, builders, contractors, and investors is vital in helping them navigate the increasing challenges of a volatile and evolving market. Our experience proves fundamental in steering through unpredictable strategy and negotiations.
We offer a range of services, including assistance with:
Real estate investment
Leasing
Commercial and industrial real estate
Real estate development
Multi-residential property
Real estate acquisition and disposition
Other real estate issues
---

Retail
Successful retailers know how to minimize inventory investment and labor and operation costs while grappling with both competition and economic factors. The unpredictable elements affecting consumer purchasing behaviours are easily navigable with our help. Our professionals are well equipped to assist you with everything from starting up to transition planning.
We work with a variety of business models, including:
Brick-and-mortar retail operations
Mail-order businesses
Online retailers
Auto dealerships
Franchising
---

Technology
Software, hardware, electronics manufacturing and IT service companies must compete and excel in a rapidly evolving environment. Complex tax, accounting, and business issues serve to increase the difficulty businesses face. We believe the innovative and entrepreneurial spirit that drives today's technology business deserves the expert support our team is capable of offering.
We help technology companies achieve their goals through:
Industry-specific tax planning
Navigating the SR & ED tax credit regime
Finding and retaining the right workforce for your business
Advice on business transition planning
Guidance on e-commerce
Support with business expansion, multi-jurisdictional operations, and cross-border commerce
---

Professional Practices
The significant business challenges involved in running a professional practice are numerous. The need for effective planning is critical to succeed. Our experienced team will take the time to understand your unique business situation and personal needs.
In addition to traditional accounting and assurance services, we can also support you with:
Tax planning and compliance
Practice management advice
Human resource management
Succession and retirement planning
Financial planning
Business valuation services
Assistance in navigating government regulation as it affects your practice
---

Transport & Logistics
We know how to navigate the intricate and volatile world of transportation and logistics. Consumer demand, fuel prices, unpredictable markets, energy efficiency, and new technology are just some of the challenges the industry faces. Thorough experience and resourceful comprehension are needed in order to thrive in the transportation and logistics market. Our team of accountants and tax professionals are ready to help your company not only compete, but also prosper.
Some of the industry-specific services we provide include:
Tax planning and compliance
Support in navigating freight transportation regulations
Planning support for multi-jurisdictional and cross-border operations
Business process improvement expertise
Support for business expansion initiatives
---